A new play examining love, sex, power, and consent on campus.
September 5 - 15, 2019
Thursdays - Saturdays at 8 pm, Sundays at 3 pm
Tulane's Lupin Theatre, 150 Dixon Hall Annex
FREE but tickets must be reserved
Roleplay is suitable for ages 18+ unless accompanied by an adult. The show contains explicit language and sexual content.
Inspired by the startling results of the 2018 Tulane University Climate Survey on Sexual Misconduct revealing that 41% of female students and 19% of male students reported being sexually assaulted during their time on campus, a team of student performers and New Orleans artists have come together to address sexual violence on the University's campus, creating a new theatrical work that explores student's experiences.
Adjunct Professor and GRP ensemble member Darci Fulcher, filmmaker Katie Mathews, Tulane Professor Jenny Mercein, as well as GRP members Shannon Flaherty, Denise Frazier and Chris Kaminstein, collaborated with Tulane students beginning in the 2018-19 school year to create this 90-minute show that follows 11 students through their Sophomore year of college.
Student creator/performers: Aaron Avidon, Carl Briggs Jr., Ross Brill, Alexandra Elam, Hannah Gordon, Grace Graughnard, Robert Holmes-Acourt, Miranda Kramer, Nagelle LeBoyd, Hailey Mozzachio, and Lucy Sartor. Roleplay was also built by Annalise Harknett, Noah Hazzard, Hannah Kent, and James Weiss, with student choreography by Tessa Rebold.
Lead team of adult artists: Shannon Flaherty, Denise Frazier, Darci Fulcher, Katie Mathews, and Jenny Mercein.
Stage Management: Kit Sternberger
Set Design: Kevin Griffith
Properties Design: Owen Ever
Costume Design: Ellen Bull
Sound Design: Dylan Hunter
Lighting Design: Joan Long

In addition, the Roleplay process is being followed by documentary filmmaker, and project co-originator Katie Mathews. Over the course of the 2018-2019 school year, a group of professional and student filmmakers documented the creation process in an attempt to portray the social issues that college students grapple with today, and how art can be transformational in confronting these issues. The Roleplay documentary film is scheduled to be released in the fall of 2021.
In April 2019, the ensemble shared a work-in-progress: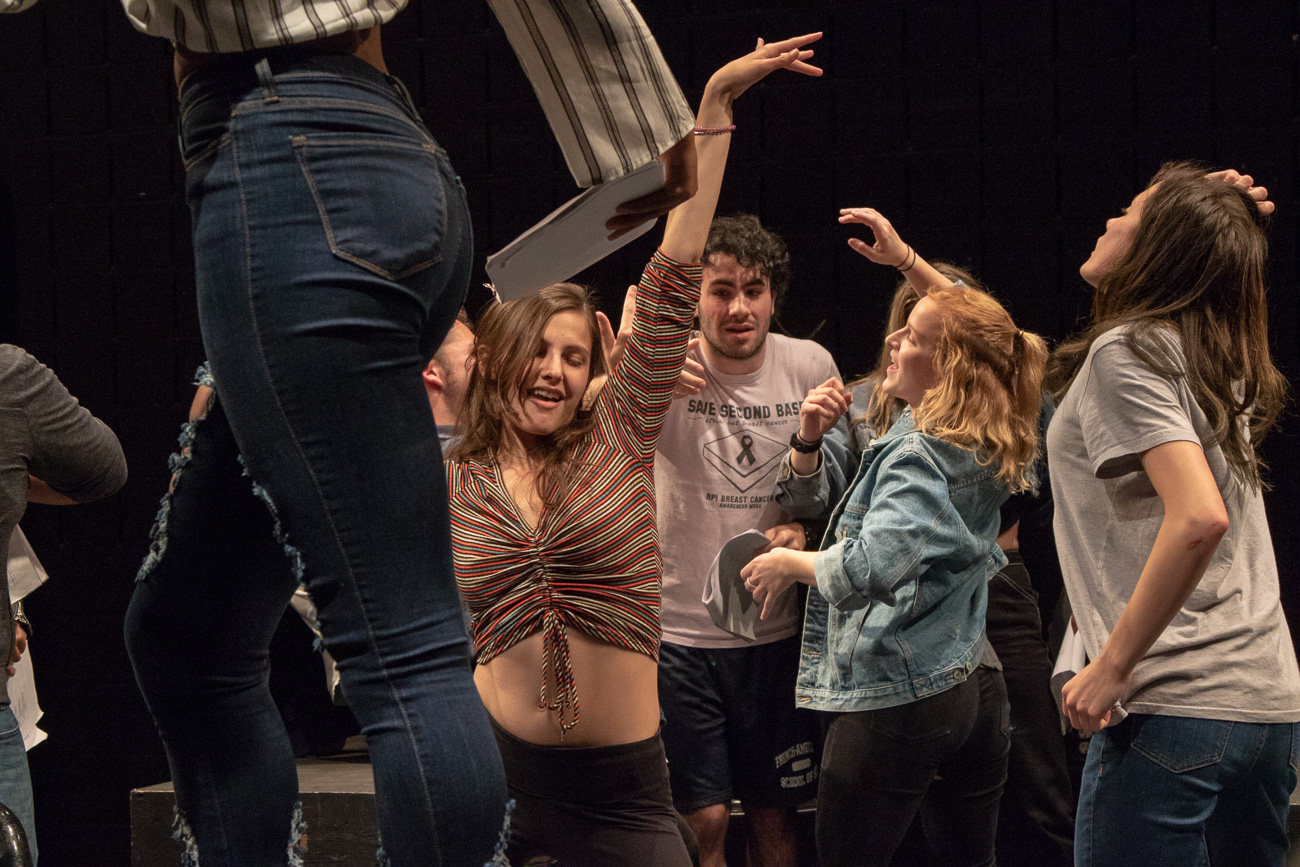 *Photos by Michael Santiago
Roleplay is made possible by support from the Newcomb College Institute of Tulane University and the Donna and Richard Esteves Fund at the Newcomb College Institute, Campus Health's All-In Initiative, School of Liberal Arts at Tulane University Lurcy Grant, Nancy Rebold and Matt Rebold, and a Carol Lavin Bernick Faculty Grant. Early development of Roleplay was sponsored by the Hangar Theatre AIRS Residency. Special thanks to the Tulane Department of Theatre & Dance.