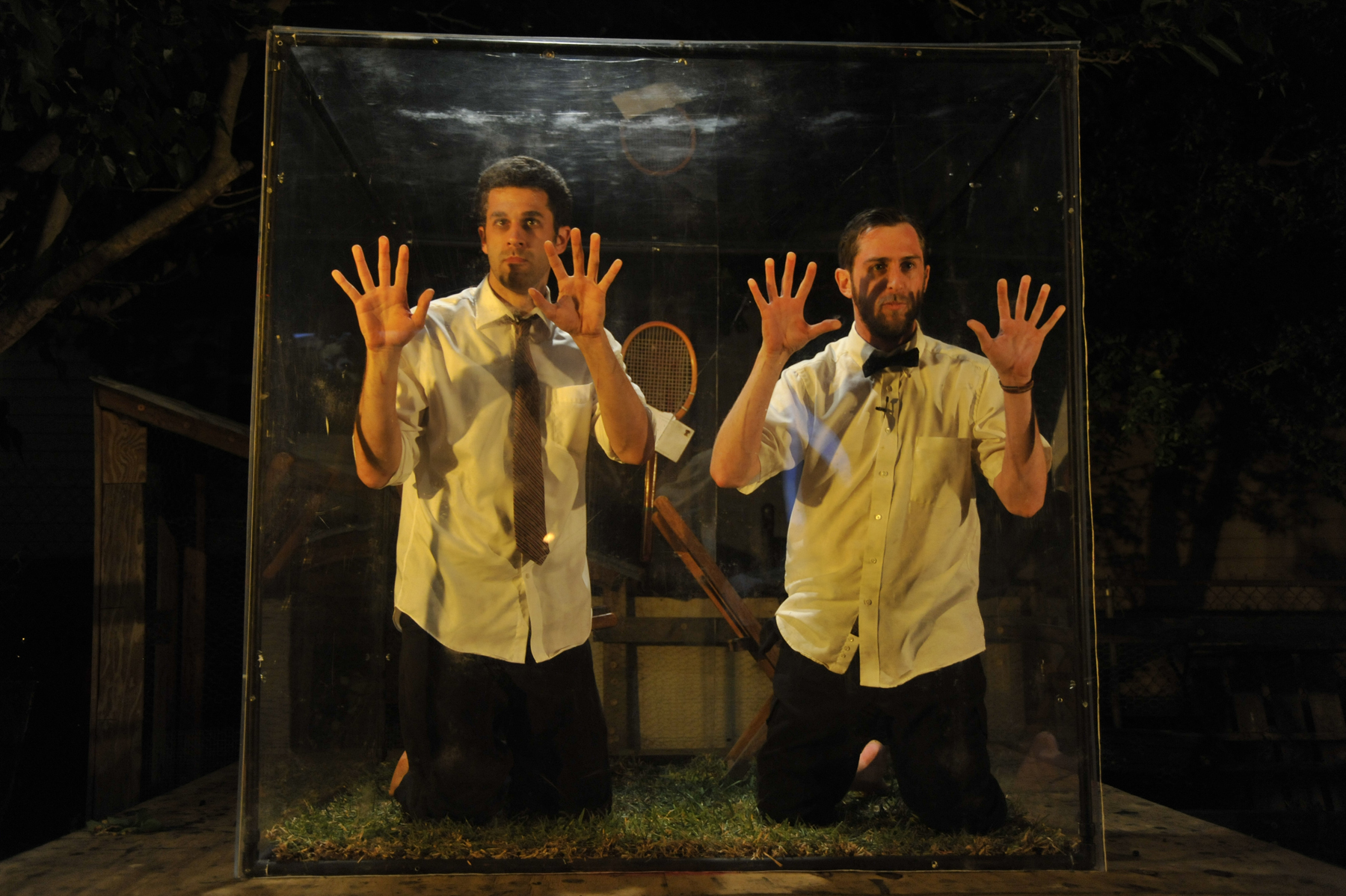 Mission
Goat in the Road Productions is a New Orleans based performance ensemble dedicated to the production of original and invigorating new works of theatre, dance, performance art, and educational programming.
History
Since its 2008 inception GRP has created seventeen original plays for adult audiences and reached thousands of New Orleans students with its vibrant educational programming. Our work is meticulously researched, beautifully designed, and uses history and science to comment on current social trends. We have been nominated for nearly a dozen Big Easy Theater Awards, have toured throughout the country, been awarded competitive artist residencies, and in 2013 GRP's Our Man was featured on the cover of American Theatre magazine. GRP has received funding for our artistic work from the New England Foundation for the Arts, the Network of Ensemble Theaters, the National Performance Network, the Puffin Foundation, and the New Orleans Jazz & Heritage Foundation, among others.
In addition to the artistic work, GRP has been running Play/Write, our young playwrights' program devoted to fostering young artists, since 2010. Play/Write is incredibly popular with students, parents, and New Orleans audiences; staging plays with professional actors written by middle school youth. Play/Write currently hosts five year-long residencies in New Orleans schools, intensively reaching over 300 kids each year. In 2016, GRP expanded its youth programming by creating Goat in the Schools, a unique school-tour that brings student-written works to cafeterias, gymnasiums and libraries all over New Orleans.
 
Production History:
2017-18
My Best Friend is an Alien, multiple schools (New Orleans, LA)
Shakesbeer: Romeo & Juliet, Parleaux Beer Lab (New Orleans, LA)
Shakesbeer: Romeo & Juliet, Twelve Mile Limit (New Orleans, LA)
Foreign to Myself, Robert E. Nims Theatre at the University of New Orleans (New Orleans, LA)
The Stranger Disease, Madame John's Legacy (New Orleans, LA)
The Distance of Sound at the FORGE Festival, The Fortess of Lushington (New Orleans, LA)
The Night With Mr. Bismuth at the FORGE Festival, The Fortress of Lushington (New Orleans, LA)
2016-17
Snowman, Monster, Dog, Le Petit Theatre du Vieux Carre (New Orleans, LA)
Numb, Catapult (New Orleans, LA)
Numb, Mascher Space Cooperative (Philadelphia, PA)
Numb, JACK (Brooklyn, NY)
Play/Write Showcase, Dillard University's Cook Theatre (New Orleans, LA)
Foreign to Myself, The Contemporary Arts Center (New Orleans, LA)
2015 - 16
Uncle Vanya: Quarter Life Crisis, The Ether Dome (New Orleans, LA)
Our Man at the FORGE Festival, The Theatre at St. Claude (New Orleans, LA)
Play/Write Showcase, Dillard University's Cook Theatre (New Orleans, LA)
Haydn Seek, Marigny Opera House (New Orleans, LA)
Our Man, Kleinua Theatre at University of Southern Illinois at Carbondale (Carbondale, IL)
2014 - 15
Numb, The Ether Dome as part of the New Orleans Fringe Festival (New Orleans, LA)
This Sweaty City, Episode 3: The Teetotaler, The Shadowbox Theater (New Orleans, LA)
Play/Write Showcase, Dillard University's Cook Theatre (New Orleans, LA)
Instant Misunderstanding, Marlboro College (Marlboro, VT)
Instant Misunderstanding, Lyndon State College (Lyndonville, VT)
2013 - 14
This Sweaty City, Episode 2: G.E. Bulova Electric Clock Radio, Luthjen's Dance Hall as part of the New Orleans Fringe Festival (New Orleans, LA)
This Sweaty City, Episode 1: Dead Man Waking Up, The Shadowbox Theater (New Orleans, LA)
Play/Write Showcase, Dillard University's Cook Theatre (New Orleans, LA)
2012 - 13
Instant Misunderstanding, New Orleans Fringe Festival (New Orleans, LA)
Instant Misunderstanding, North American Cultural Laboratory (Highland Lake, NY)
Instant Misunderstanding, KO Festival (Amherst, MA – Rehearsal Residency)
Play/Write Showcase, Dillard University's Cook Theatre (New Orleans, LA)
2011 - 12
The Future is a Fancyland Place, The Allways Lounge and Theater (New Orleans, LA)
Our Man, The Berkshire Fringe Festival (Great Barrington, NY)
Our Man, Underground Arts (Philadelphia, PA)
Our Man, Bloomsburg Theater Ensemble's Mitroni Theater (Bloomsburg, PA)
Borders, in collaboration with Artzenico, The Shadowbox Theater (New Orleans, LA)
Play/Write Showcase, Dillard University's Cook Theatre (New Orleans, LA)
Our Man, Trouser House (New Orleans, LA)
Interstate Fringe Production of Our Man, FrenetiCore Theater (Houston, TX)
Interstate Fringe Production of Our Man, Michalopoulos Studio (New Orleans, LA)
2010 - 11
Our Man, New Orleans Fringe Festival (New Orleans, LA)
The Don Effect, The Candle Factory (New Orleans, LA)
Play/Write Showcase, Contemporary Art Center's Freeport-McMoRan Theater (New Orleans, LA)
The Meese Papers, Allways Lounge and Theater (New Orleans, LA)
Smash, Gris-Gris Lab (New Orleans, LA)
2009 - 10
Major Swelling's Salvation Salve Medicine Show, New Orleans Fringe Festival (New Orleans, LA)
Rinse and Repeat, Contemporary Art Center (New Orleans, LA)
Whatever Just Happened, Didn't Happen, Allways Lounge and Theater (New Orleans, LA)
Whatever Just Happened, Didn't Happen, State of the Nation (New Orleans, LA)
Play/Write Showcase, Contemporary Art Center's Freeport-McMoRan Theater (New Orleans, LA)
2008 - 09
The Calculus of Hope, New Orleans Fringe Festival (New Orleans, LA)
Rinse and Repeat, On Piety (New Orleans, LA)